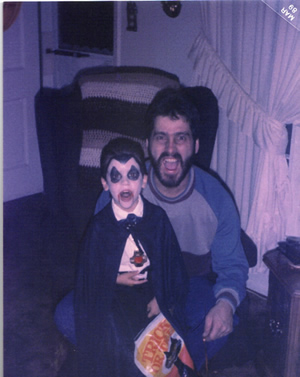 Five questions asked over a glowing Jack o'Lantern, under an Autumn moon obscured by passing clouds...in between mouthfuls of candy corn...Halloween Man666 of Halloween Overkill keeps asking the questions "Can you really have Halloween overkill? Can you ever have too much of that October 31st  rush of candy, costumes, and creepy fun?" And he always comes up with the same answer: Hell No!
Why is Halloween important to you?
I think the thing that makes Halloween so important to me today is because of the memories I have of Halloweens long past and the feelings of past Halloweens that it invokes. The Halloween nights growing up where I was Dracula, and a ninja turtle, and the devil, and even a clown are all nights that I can still remember to this day. The smell of grease paint and scorched pumpkin guts. The smell of pumpkin seeds roasting in the oven and that smell of the plastic insides of those masks we used to wear.  Even that odd scent of burning fog machine liquid are all sensations I can actually smell right now if I try hard enough. I have these vague memories of it always being slightly rainy on Halloween growing up and now it just seems to be ice cold up in Michigan where I travel to be with my parents every Halloween. So mostly I think it is just reliving and remembering those memories of old Halloween's and my youth that makes Halloween so special to me.
Describe your ideal Halloween.
My ideal Halloween would be waking on a warm autumn Saturday Halloween to the smell of doughnuts from Blake's Apple Orchard and the scent of cider coming from the kitchen at my parents' house. My wife and I would finish setting up the front yard haunt that we do every year at my parents' house. A few people would show up for a small Halloween party and after it gets slightly dark outside we would kick it into high gear with the theatrics and fog machines and makeup and masks. The yard haunt would run for a few hours during which a few more close family members and friends would all show up to celebrate and watch the madness unfold on the front lawn.  After the actual trick or treating is done we might pile into the car, speeding away from the city lights into the eerie darkness of the farm countryside to enjoy a professional haunted house and hayride. When all that is done we would all come home to a nice warm pizza, a few gallons of pop and a few pounds of candy. We would relax watching all of our favorite Halloween classics on the t.v. We would all stay up past midnight (I haven't missed a Halloween midnight since I was about 5 years old). Then we would all wind down and say goodnight as everybody heads home.
What Halloween collectibles do you cherish, or hate, or both?
The Halloween collectibles I cherish are the ones from my youth. The '70s and '80s Halloween decorations are the best, and I consider them collectibles. Aside from that I have many different little Halloween trinkets I've collected over the years which I hold very dear to my heart. The Halloween collectibles I hate are some of the more modern ones that are too cutesy (such as the bejeweled skulls) for the holiday, although there have been a few modern collectibles here and there that I would proudly add to my collection. I'd have to say one of my all-time favorite Halloween collectibles was actually featured right here on Zombos Closet: the Halloween Haunted House Nite-Lite, which can be seen here.
When was your very first Halloween, the one where you really knew it was Halloween, and how was it?
I think the first time I knew that Halloween was "THE day" was the year I was dressed up as Dracula. I can still remember my parents helping me put the makeup on and helping out with the costume and the accessories. To this day I don't know how, but I can replay most of the night in my head as if it had just happened yesterday.
Here is one of my most cherished pictures of me on that night (photo top right). That is my dad behind me in the chair and I don't know what it is about the picture but as an adult it just tugs at my heart strings to see myself as a little Dracula boy and my dad behind me growling and showing off his "Vampiric" side as well. I often credit my parents as being the ones who I can blame for my Halloween and horror obsession and this picture reminds me of that.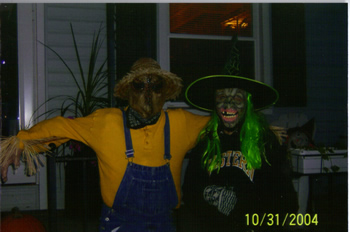 What's the one Halloween question you want to be asked and what's your answer?
Q: Hi Jason, would you like to come work for our Halloween mask/decorations/haunted house/design/screenwriting company?
A: Hell yes I would!
By the way that's my wife and I (photo right). Trick or Treat!