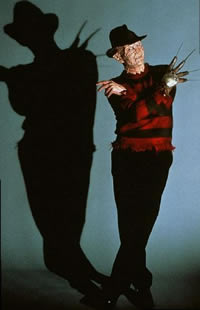 Talk about nightmares! The members of the League of Tana Tea Drinkers gang up on good ol' classic Freddy and give him the business. Elm Street will never be the same.
Day of the Woman gossips about the Women of Freddy: Whether it's a woman who knows exactly how to stop him, the victim he can't seem to catch hold of, or even his daughter, Freddy Krueger just doesn't have the best luck when it comes to girls.
Freddy In Space remembers the people who made Freddy so memorable (and frightful): Let's take a moment to remember those Elm Street residents who are no longer with us - but who will live on forever through the magic of film.
Vault of Horror joins in to discuss Freddy's unforgettable franchise of fear: Just in time for the much-anticipated Platinum Dunes remake of A Nightmare on Elm Street, Count Vardulon and The Divemistress, and Vault of Horror take an in-depth look at the NOES franchise. And VOH goes even further by presenting a quarter-century of Freddy goodness, too!

Evil On Two Legs gives us their top 10 pointless and irrelevant observations corey made while rewatching a nightmare on elm street earlier this week: at number 2, throughout the entire movie, heather langenkamp has a distracting pimple on her forehead.
The Lightning Bug's Lair shares the shining moment when Freddy encounters the Dream Warriors: Nightmare III plays out more like a direct sequel to the first. Well, except this time Freddy's got jokes, and boy, does he ever have jokes.
Moon Is a Dead World speculates on the quality of the Freddy remake: I've come to the conclusion that, if written properly, this speculation may be able to give a complete, factual representation of what we might expect from A Nightmare on Elm Street.
Lost Highway detours around Freddy as the Dream Master: In this made for MTV style movie nothing is going to stop Freddy from taking out the remaining survivors from the previous Nightmare sequels.
Reflections on Film and TV discovers the Tao of Freddy: In William Schoell and James Spencer's superlative companion, The Nightmare Never Ends: The Official History of Freddy Krueger and the Nightmare on Elm Street Films, director and horror icon Wes Craven briefly recounts the youthful experience that led him to create cinematic dream-killer Freddy Krueger.
There, that should help keep you up tonight. If not, sweet dreams! Don't let the Freddy bugs bite.