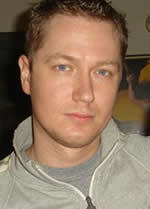 Many fans of horror, amateur and professional alike, have devoted themselves to blogging about the thrills, chills, and no-frills side of the genre as seen in cinema and print. In this ongoing series that highlights the writers behind the blogs, we meet the unique personalities and talents that make the online horror scene so engaging. Up close and personal.
In this installment, Matt from Chuck Norris Ate My Baby blames his mom for all the horror.
I think I can blame my mother for indirectly pointing me in the direction of horror films and cult cinema. She wasn't a huge horror fan by any stretch, but she loved movies like Halloween, Jaws, and War of the Worlds etc...and some of my fondest memories are of us watching all of these films and others together on TV. She would wax nostalgic and tell me tales of when she went to see Jaws in the theaters and how there was a line around the block, or how people would freak out around her while viewing The Exorcist when she saw it in theaters. All of that stuff was intriguing to me as was the mystery of scary movies.
Continue reading "Meet the Horror Bloggers:
Chuck Norris Ate My Baby" »