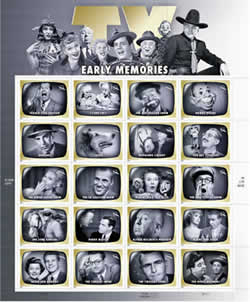 The Twilight Zone and Alfred Hitchcock Presents, appear on one of 20 first-class stamps released by the U.S. Post Office, featuring 1950's hit television shows. The stamps include images of Dragnet, The Ed Sullivan Show, The Honeymooners, I Love Lucy, Lassie, The Lone Ranger, Ozzie and Harriet, Howdy Doody, and Perry Mason.

(Don't miss the Edgar Allan Poe 200th birthday commemorative stamp either.)

Here's the press info on the classic TV series:
One of America's most revered canines was among 20 television icons that came out of retirement today to be honored on the U.S. Postal Service's Early TV Memories 44-cent commemorative First-Class stamp sheet. Lassie participated in the first-day-of-issue dedication ceremony that took place at the Academy of Television Arts and Sciences in North Hollywood.
Continue reading "U.S. Stamps Honor Twilight Zone and Others" »