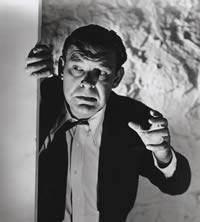 Beware! Once again, the archives have been unburied, and the hideous horrors unleashed! For your entertainment and edification pleasure, of course. Members of the League of Tana Tea Drinkers dig six feet deep to find their past misdeeds...and reveal them to you, one post at a time!
Vault of Horror and Day of the Woman team up to send us the 20 Hottest Women in Horror. Tonight we're talking about the women of horror, so who better to bring on board than the mastermind behind Day of the Woman herself, the irrepressible and irresistible BJ-C? She and myself worked long and hard to compile the following list of the most beautiful female characters in horror history, and I now leave it to BJ-C to bring it to you in her own inimitable style... 
...don't touch that dial...there's more!