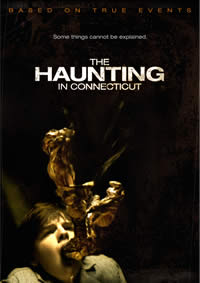 Since its inception in the field of spiritualism, the concept of ectoplasm has escaped to become a staple in popular culture and fictional supernatural lore. Notable examples include Noel Coward's 1941 play Blithe Spirit, and the 1984 film Ghostbusters, in which "ectoplasmic residue" secreted by ghosts is portrayed as viscous, cloudy and greenish-white, similar to nasal mucus, famously referred to in Bill Murray's lines "Your mucous", and "He slimed me!" (Wikipedia).
Zombos Says: Good
Right before I drove to the theater last night, to watch a late showing of The Haunting in Connecticut, a lightning storm sparkled and boomed through Westbury, dropping pea-sized hail and fat raindrops by the bucketful. Perfectly horrid weather for, as it turned out, a not so perfect horror movie. While director Peter Cornwell and writers did manage to startle me twice, The Haunting in Connecticut has more in common with Tobe Hooper's energetic spookfest Poltergeist than the lingering, atmospheric scares in Lewis Allen's The Uninvited or Robert Wise's The Haunting, but not enough in common to make it as good.
The Snedeker family's travails with a reportedly true-life demonic haunting in Southington, Connecticut have been documented (I'll leave it up to you if you'd like to put quotes around documented or not) in an episode of A Haunting, which aired on the Discovery Channel, and in Ray Garton's book, In A Dark Place. Taking the cheerless funeral home ambiance and malevolent presence aspects of their paranormal experience, the movie embellishes it with necromancy, runic magic, angry earthbound spirits (earthbound spirits in horror movies always seem to be angry), and spiritualism. This backstory, involving seances run by the sinister Dr. Aickman and his reluctant medium, Jonah, would have made a more effective and terrifying movie entirely on its own.
Continue reading "Movie Review: The Haunting In Connecticut (2009)
Boo Who?" »