Zombos Says: Excellent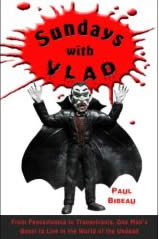 I became the odd little kid who's in love with monsters. There's one in every neighborhood. My favorite book was The Three Little Pigs because of that wolf peeking from just outside the window of the brick house. I loaded up on books about vampires and werewolves at the school library. The grisly woodcuts of creatures loping through the medieval fields and lunching on peasants would keep me awake all night. In the morning, I'd take the books back, promise myself I would never read them again, and check them back out the very next week.
(Paul Bibeau, Sundays with Vlad: From Pennsylvania to Transylvania, One Man's Quest to Live in the World of the Undead)
"Please take your seats everyone, this meeting of Goths Anonymous is about to start," said a frail-looking individual in front of the room. He fidgeted with the lace on his shirt cuffs when no one paid attention to him. "We can't get started until everyone takes a seat," he implored.
"Will you please sit down," I told Zombos. He looked at me with a questioning glance as he pulled out an iPod earbud from one ear. "I said you really need to sit down. The meeting is about to start."
Zombos shut off his iPod. "I really do not know why you dragged me to this so-called meeting. I see nothing wrong with listening to Midnight Syndicate."
"You've been listening to them non-stop." I said. "And even when you aren't listening to them, you're humming Cemetery Gates or Mansion in the Mist ad nauseam. In sum, you're driving me, Zimba, your son, and Chef Machiavelli bonkers. Oh, lord, is that Paul Bibeau?"
Zombos turned around to look. "Why yes, I think it is. He is wearing that same black ensemble he used to prowl the Renfield Country club circuit for his book. My word, how does he manage to walk in those tight pants. I bet his voice has gone up a pitch or two since he put those things on. Paul! Paul! Over here!," waved Zombos.
"No! Don't call him over! I haven't reviewed his book, Sundays With Vlad: From Pennsylvania to Transylvania, One Man's Quest to Live in the World of the Undead yet. He'll be asking me about it and I won't know what to say," I pleaded, but it was too late. Paul saw Zombos and headed over to us.
"You have not reviewed his book yet? What in Hades are you waiting for, man, it has been over a year," said Zombos, folding his arms. I hate when he folds his arms like that.