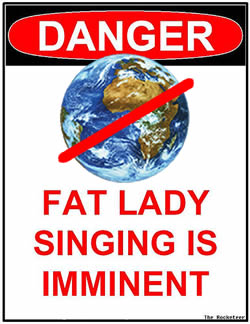 Beware! The members of the League of Tana Tea Drinkers open their bomb shelters to reveal a never-ending parade of pre and post apocalyptic movies. You are warned! And pack a light lunch.

The Moon Is a Dead World: Doomsday
I wasn't sure what to expect from Doomsday, coming from director Neil Marshall who also worked on the very popular film The Descent from 2005. It looks like a zombie film but it's technically not about zombies; it feels like a comic book but it's not that either. But though Doomsday looks a lot like The Descent's gritty, dirty world, it's lacking in the scares and the intensity that drove it.
TheoFantastique Ponders the Apocalyptic In Three Movies

Legion: Apocalypse and the Postmodern Imagination
In the history of the Western world the Judeo-Christian apocalyptic has been the most influential. In that religio-cultural context one of the key apocalyptic texts has been St. John's Book of Revelation.
Hitchcock's The Birds as Precursor to Nature Apocalypticism
A couple of weeks ago my wife found a copy of Hitchcock's The Birds at the library and she checked it out for me. We watched it later that day, and later I then watched the bonus materials that went behind the scenes. I was struck by two things...
2012 and the Mayan Calendar of the End
2012 taps into the long undercurrent of millenarianism and apocalyptic thought in Western culture. This overlaps with environmental concerns, prophets and prophecy, ancient civilizations (with the Mayans being of special interest as 2012 and Indiana Jones and the Kingdom of the Crystal Skull indicate), and especially the Mayan calendar.
Continue reading "LOTT D: Movies Of Apocalyptic Proportions" »