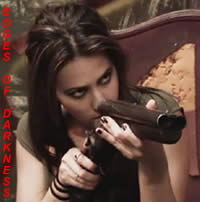 Zombos Says: Fair
Jason Horton and Blaine Cade's Edges of Darkness is the kind of low-budget arthouse film that, given its uneven acting and shoe-string budget production values, is still important to watch for those flashes of good writing and good direction that shine through. In three separate stories following people dealing with a zombie apocalypse in their own ways, God and Devil, vampires, and organic computing provide the unusual themes wrapped around this flesh-eating grue.
While the stories do not intertwine, they are intercut, which at times jostles the pacing and dramatic continuity. Tying them together is the gated community locale, an unrelenting threat from zombies lumbering just outside, and the need for satisfying hungers that go beyond flesh-munching closeups and dripping gristle.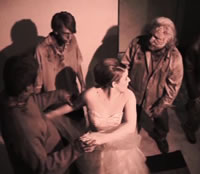 Even in the least engrossing story there is a wonderful and unexpected flash of macabre poetry shown when Dana (Alisha Gaddis) dreams she is dancing with a roomful of zombies. It is compelling, like the dance of the dead in Carnival of Souls and the dancing dead in Robert Aickman's short story, Ringing the Changes, because it plays with our sense of propriety. It is unsettling enough that the only person who listens to her is Morris (Wayne Baldwin) the zombie--out of reach, of course--outside her bedroom window, while her husband writes endlessly on his computer. Has he gone mad from the stress? Who does he think will read his story? We never find out, and instead watch as he eagerly plugs in the weird computer chip from DHell. When the lights go out, it starts searching for an alternate power source, sending out wires (tentacles) that first power-up from a house plant, then a mouse, and eventually you know what.
While Dana yearns for romance, her husband Dean yearns for backup power. Uneven acting almost cripples the pent-up tension and despair here.The climax is predictable, but the relationship between Dana and Dean (Jay Costelo) provides a refreshing psychological perspective seldom seen in more mainstream fare. We need to explore more atypical relationships like this one in the cinema of the undead, and devote time to the frustrated, freaked-out, living, coping with the voracious dead, instead of the over-used gut-churning closeups of zombies feasting.
Continue reading "Movie Review: Edges of Darkness (2008)
Zombies, Vampires, and Saviours" »